Hi friends,
Greetings from Lisbon!
If you're ever in town, check out We Love F****** Tourists and We Hate F****** Tourists. These sister hostels are so friendly, so cozy. From the iced tea + grapes upon arrival, to the WiFi password (loveyou2), to the fully-stocked, trust-system mini-fridge — it's a world-class hospitality service, on a budget!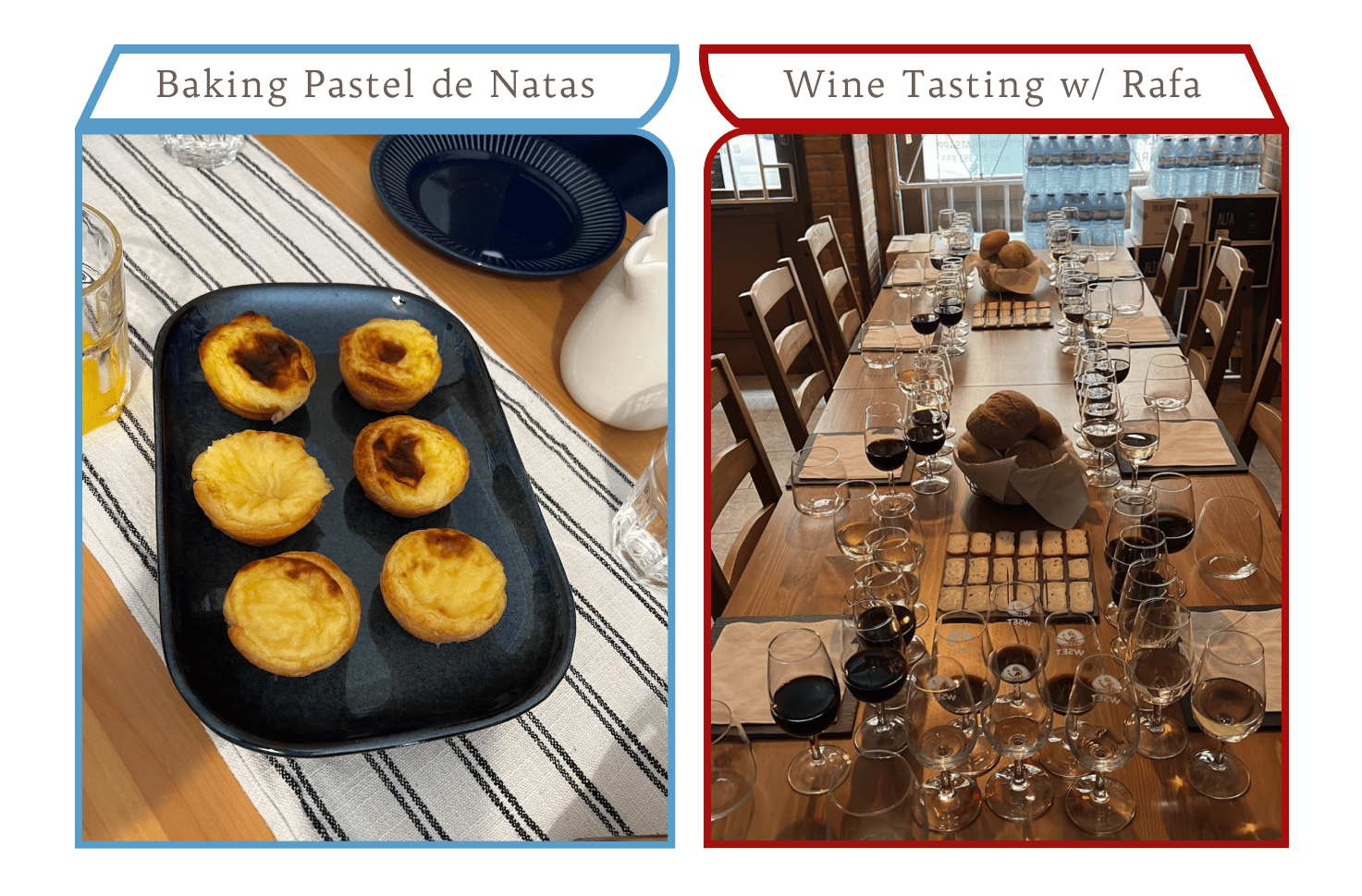 Here's what I wanted to share:
​New Year, New Me ⚡️. On September 1st, I quit my job to travel the world. Called "New Year, New Me" I will be spending the next 12 months in 12 locations. I'm working on creating T-shirt designs. They'll be ready to order on January 1st. Read my story here.
Airbnb Experiences. I'm a habitual Airbnb user, and I tried Airbnb Experiences for the first time.
Baking Pastel de Natas. Joana, our baker, has hosted these sessions daily for the past 5 years. Having done this 1000+ times, everything went so smoothly. And the pastéis were delicious!
Wine Tasting. Rafa, taster of 3,367 wines so far this year, led my first wine-tasting lesson. Having worked at a 3-Star Michelin restaurant, he can taste 10-20 unique flavors in a sip. To me, the flavors (green apple, vanilla, cinnamon, oak) seem like voodoo, conjured out of nowhere. But the physical sensations are real. Acidic wines make you drool. Tannic wines make your gums dry.
12 Favorite Problems. My first assignment in Write of Passage was to list my 12 favorite problems. Good problems are open-ended, personal, and uniquely meaningful. I'd like to share mine:
How can I design a life to give me the space to work on creative projects?
How can I impact as many people as possible, to give back what the world has given me?
How can I make enough money to be financially independent (~100k/yr)?
How can I build a body that lasts 100 years
How can I never be lonely again?
How can I increase the breadth and depth of my relationships?
How can I process emotions without burdening others?
How can I be decisive day-to-day yet patient in the long run?
How can I be selfless and give all that I have, yet be selfish and set proper boundaries?
How can I raise my ambitions while being satisfied with what I have?
How can I communicate with confidence and humility?
What daily, weekly, and monthly habits can I adopt that my future self will thank me for?
---
Best Things I Read
​The Great Online Game. By posting on social media, you open yourself up to great rewards, with near-zero downside. Too bad many people only see the "negatives" of social media. Like all games, they're opt-in, meaning you don't have to play (just like I don't play basketball). And that's fantastic too. Read the article here.​
Bhagavad Gita. The Gita is the foundational Hindu text. I'd like to share two concepts:
Empathy. Sage Vyasa identified empathy as a key virtue 3,000 years ago. Quote: "When a person responds to the joys and sorrows of others as if they were his own, he has attained the highest state of spiritual union. (6:32)"
Dharma. Roughly translated as "duty" or "responsibility", Dharma is the most important concept in Hindu philosophy. To illustrate, here's a story:
"A sage, seated beside the Ganges, notices a scorpion that has fallen into the water. He reaches down and rescues it, only to be stung. Some time later he looks down and sees the scorpion thrashing about in the water again. Once more he reaches down to rescue it, and once more he is stung. A bystander, observing all this, exclaims, "Holy one, why do you keep doing that? Don't you see that the wretched creature will only sting you in return?" "Of course," the sage replied. "It is the dharma of a scorpion to sting. But it is the dharma of a human being to save."
​Macro Patience, Micro Speed. Too many people are worrying about their years, while wasting their days. When it should be the opposite. Stress about your days, and don't worry about the years. This is my favorite framework on time and productivity. Read the article here.
I'm considering enlisting AI to write my next postcard. We'll see if it's up for the task.. Until then!
Have a wonderful week,
Feel free to reply to this email. I'd love to hear from you! :D