​
Hi friends,
Greetings from Ubud!
I'm staying in a villa by the Monkey Forest. You see crab-eating macaques roam the streets, perch on electrical wires, and eat crumbles of leftovers. They are the pigeons of Ubud.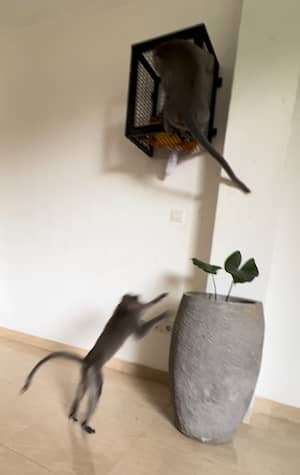 As a teenager, I dreamed of becoming a CIA spy. Secrets fascinated me, as did a double life. As Dostoevsky says, the world enchants us in three ways: authority, miracle and mystery.
Here's what I want to share this week:
​CIA Design Case Study. In college, I took an Intro to Acting class. To be more deliberate in delivery, my teacher told me to ask: "What emotion do I want to evoke in the other person?" This works with lines and designs. This article is about how text and colors convey certain moods.
​Exposed Emails. Imagine every text, email you ever sent was made public. Personally, I don't think anybody would care. Nevertheless, Tim Kreider's thought experiment culminates in his most insightful line - "It's alarming to find out how little room we occupy / how little allegiance we command, in other people's heads." Read the essay here.
​Peter Thiel's Secret. The man known for secrets reveals one at SXSW 2013. Thiel categorizes beliefs along two axes: optimistic / pessimistic and known / unknown. Insurance thrives in a pessimistic, unknown world, while

Small Bets

is a corollary of an optimistic, unknown world.

Watch the video here.​
---
What I'm Working On
​George Rhoads. I published my first long-form essay! Like millions of kids, I was captivated by Rhoads' ball machines. In this essay I trace the origins of his creative work. I show how multiple disparate elements (Kinetics, Origami, Engineering) come together to form his personal monopoly. Read the essay here.​
Copying Designs. Like code, every graphic can be reverse-engineered. I begin to dabble in Figma.

Riders in Green: I'm writing an essay on Gojek, the premiere transportation app in Indonesia. You see riders reppin' green jackets everywhere. I've ridden on several, with short rides averaging $0.80. Just as Lyft is a pun on lift, Gojek is a pun on ojek, the Indonesian word for taxibike.
Have a wonderful week,
​